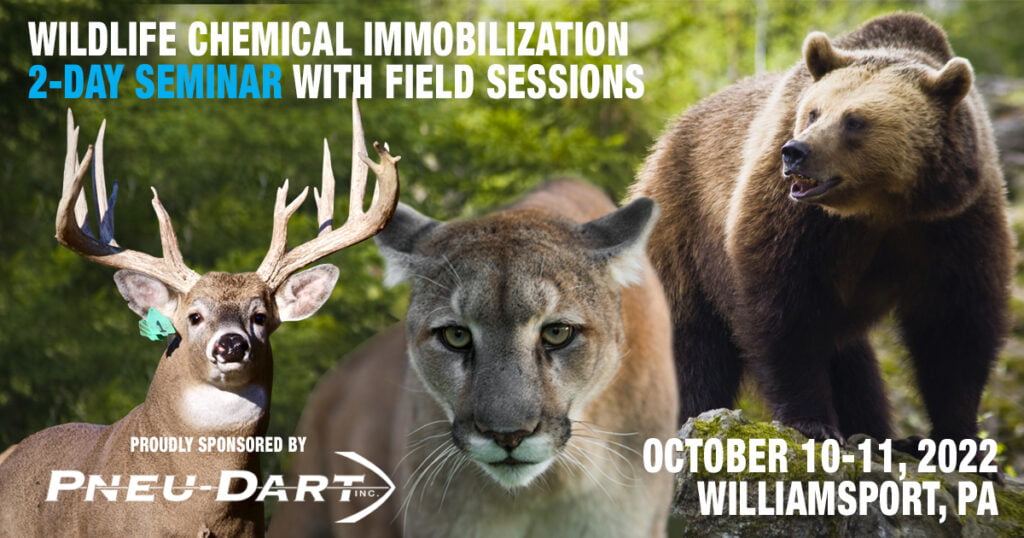 SOLD OUT
Monday, October 10, 2022
Tuesday, October 11, 2022
8:30AM – 5:00PM
All participants will have a 1 hour break for lunch. Lunch is not included. A restaurant is nearby and/or participants can pack a lunch.
Course Description
This course is for students and professionals interested in learning about all aspects of immobilizing wild animals using a variety of techniques and drugs. This immersive 2-day field course is designed to provide students a one-of-a-kind, hands-on learning experience chemically immobilizing wildlife. Dr Terry Kreeger will teach participants about all practical aspects of chemical immobilization, including safe techniques, pharmacology, delivery systems, patient monitoring, medical emergencies, and more. Participants will participate in a series of interactive labs.
Accredited
The course has been pre-approved for continuing education by:
Ecological Society of America for 4 CEUs in Category I(a): Scientific Education and Training
The Wildlife Society for 16 CEUs in Category I of the Certified Wildlife Biologist® Renewal/Professional Development Certificate Program.
RACE Approved (FOR VETERINARIANS): This program has been approved for 16 hours of continuing education credit in jurisdictions that recognize RACE approval.
---
Course fee: $650.00
A copy of Dr. Kreeger's Handbook of Wildlife Chemical Immobilization 5th edition included!
(Note: enrollment will be limited no more then 20 participants)
---
Lecture Topics
Introduction and Immobilization Philosophy
Legalities, Extra-Label Use, & Withdrawal Times
Controlled Substances & Labeling
Drug Definitions and Characteristics
Calculating Drug Doses & Drug Combinations
Neuromuscular Blocking Drugs
Tranquilizers, Sedatives, Cyclohexanes, & Opioids
Other Anesthetics, Enantiomers, and the Future of Immobilization Drugs
Overview of Recommended Drugs
Drug Delivery Methods: Introduction, Projectors, Darts
Animal Immobilization Considerations
Approach and Immobilization
Handling an Immobilized Animal
Analgesia and Euthanasia
Animal Emergency Medicine
Human Emergency Medicine
Responses to Specific Drugs
Activities
Select the appropriate drugs and calculate the correct dosages for each speciesLearn safety protocols associated with darting and drug handling, and chemical immobilization
Become proficient in using a variety of projectors during a Pneu-Dart projector lab
Demonstrate proper patient care and monitoring
Learn how to draw blood and collect other tissue samples for disease monitoring and research
Understand how to properly mark animals using a variety of tags, including radio-collars
Administer vaccinations and antibiotics to immobilized animals
Locations:
Consolidated Sportsman of Lycoming
6386 PA-87, Williamsport, PA 17701
Enter through the main gate. There will be someone there to direct you on where to go and park
Pneu-Dart, Inc / Red Ridge Whitetails
15223 Route 87 HW, Williamsport, PA 17701
(866) 299-DART (3278)
Transportation will be provided to Red Ridge Whitetails from the Sportsmans Club
Schedule:
Monday, October 11th 8:30AM – 12:00PM
Morning Lecture Seminar @ Sportsman
Monday, October 11th 1:00PM – 5:00PM
Pneu-Dart Hands-On Dart Lab @ Sportsman
Tuesday, October 11th 8:30AM – 12:00PM
Morning Lecture Seminar @ Sportsman
Tuesday, October 11th 1:00PM – 5:00PM
Administer vaccinations and antibiotics to immobilized animals @ Pneu-Dart / Red Ridge Whitetails
(Transportation from Sportsman to Pneu-Dart / RRW will be provided)
Dr. Terry Kreeger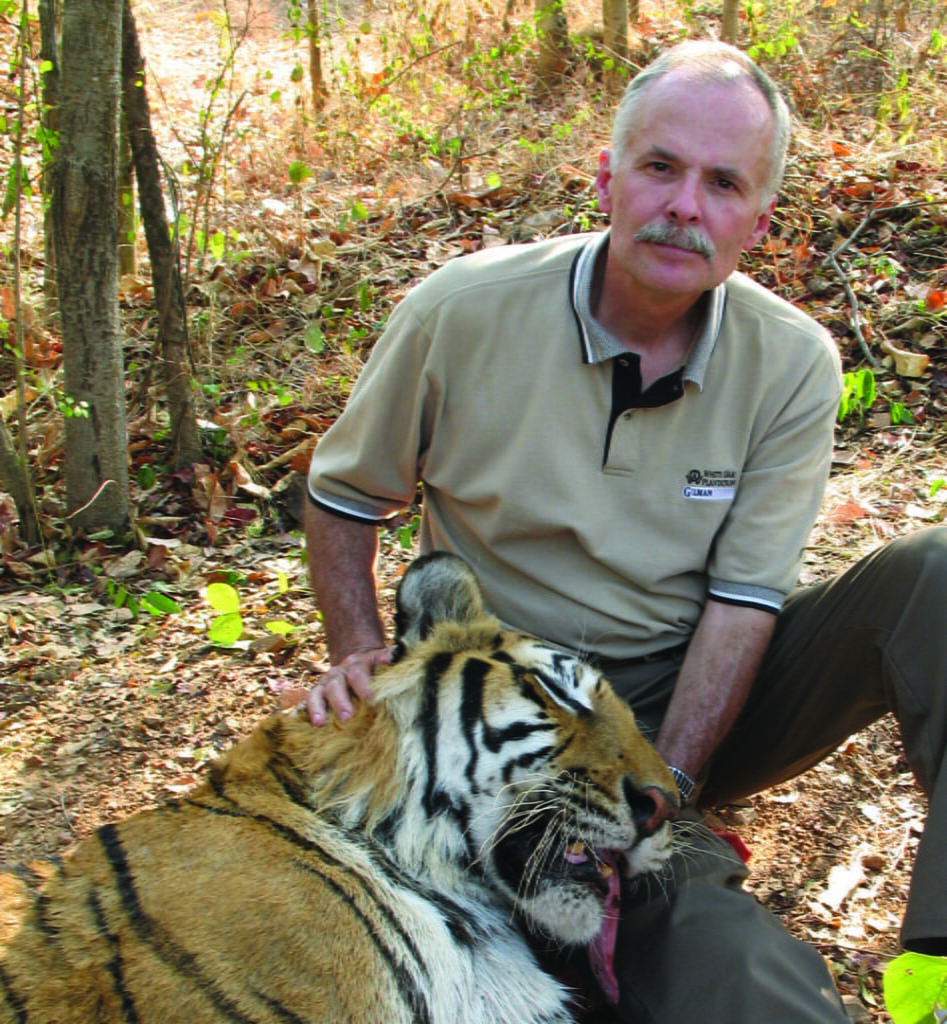 Wildlife Veterinarian
Instructor, Center for Wildlife Studies
Ph.D. Wildlife Management, University of Minnesota
D.V.M, University of Minnesota
M.S. Wildlife Biology, University of Minnesota Duluth
Terry J. Kreeger co-authored the Handbook for Wildlife Chemical Immobilization, which has become the go-to reference for the field. For 20 years, Terry was the chief veterinary officer of the Wyoming Game and Fish Department. Terry was also the past president of the American Association of Wildlife Veterinarians. He holds Bachelor degrees in Journalism and Veterinary Science, a Master's degree in Wildlife Biology, a Ph.D. in Wildlife Management, and is a Doctor of Veterinary Medicine. He is also an Adjunct Professor at the University of Wyoming (Veterinary Sciences) and the University of Minnesota (Fisheries and Wildlife). His research interests include wildlife capture and anesthesia, physiology and behavior, animal contraception, and wildlife diseases. He has captured dozens of species in the field, from antelope to zebras and has trained hundreds of students and wildlife professionals throughout North America, Russia, Africa, and Asia. In 2016, he was unanimously elected a lifetime Honorary Member of The Wildlife Society. Dr. Kreeger has authored over 100 scientific publications, books, and chapters, half of which dealt with chemical immobilization of wildlife.
Recommended Places to Stay in Williamsport: